Test centre for EDL residential meters
Hager Electro now a state-approved test centre for EDL residential meters
As of 24 September 2010, Hager Electro GmbH & Co. KG can operate its own state-approved test centre for electric measurement devices with the EL4 marking. Hager thus maintains one of only three such test centres in Saarland, the test room being situated in the electricity meter production hall at the Blieskastel location. CEO Daniel Hager personally accepted the Certificate of Approval issued by the Saarland Weights & Measures Authority, represented on the day by Robert Schwindling.

This means that, during the production of the new EDL generation of residential meters (eHZs), Hager is authorised to carry out state responsibilities within the framework of measurement and instrument legislation and so calibrate the EDL meters manufactured in Blieskastel. The Blieskastel plant currently manufactures eHZs for sale through Hager distribution channels and for its cooperation partner Itron. The eHZ EDL is already the second generation of smart meters that has been developed by Hager and produced at the Blieskastel location.

Following the presentation of the Certificate of Approval to Mr Hager, the new test centre director, Mathieu Diemert, and his two deputies, Patrick Backes and Thomas Lauer, were officially appointed and sworn in. Mr Diemert is production manager for eHZs at Business Area Controls in Saverne (France) while Mr Backes and Mr Lauer are active in the quality assurance department at Business Area Enclosures in Blieskastel.

The creation of the test centre can be seen as a further strategic step on Hager's way to establishing the metering business on a firm and sustainable basis. By transferring sovereign tasks under calibration law to a private company, the German state is honouring Hager as a trustworthy partner. Our cross-border alignment as a European Company (Societas Europaea) was not, by the way, viewed as a hindrance, a viewpoint confirmed by the swearing-in of Mr Diemert, who happens to be a French citizen.

The staffing policy at the test centre also confirms that the smart metering business – which at Hager is organised as a "cross-project" by an international and interdisciplinary team – is being advanced across business areas and country borders. In fact, the modular smart metering solution on an eHZ basis has been part of the Hager strategy for years, as it enables customers to introduce energy-efficient applications – especially in connection with intelligent building control – and so make a sustainable contribution to achieving ambitious climate protection targets.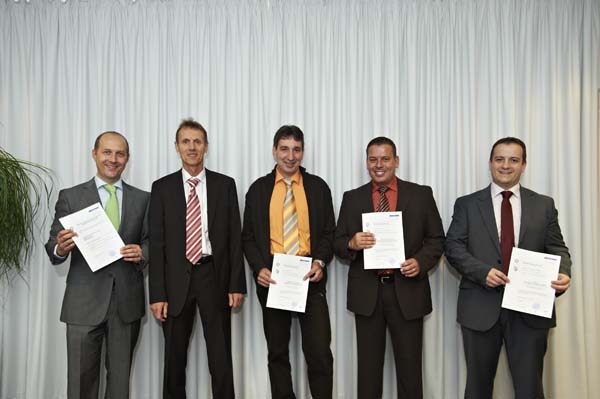 From left to right: Daniel Hager (CEO Hager Group), Robert Schwindling (Saarland Weights & Measures Authority), Thomas Lauer und Patrick Backes (Quality assurance department at BA Enclosures in Blieskastel),