IF Packaging Award 2011 for New Hager Packaging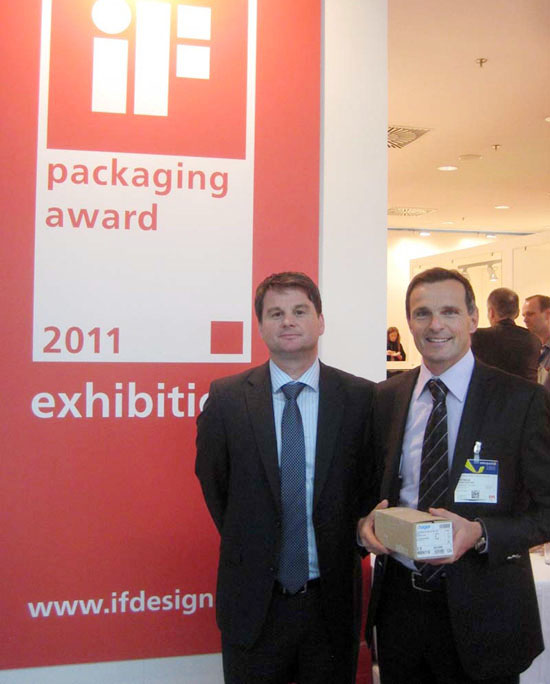 Michael Bodemer (THIMM Consulting), Jean-Guy Dietrich
Along with its business associate Thimm Consulting, the agency which advised on the recent packaging optimisation project at the Hager Group, Hager has received the IF Packaging Award for its new packaging system. The packaging so honoured could be seen as part of a special show at Interpack, the international trade fair held in Düsseldorf this year from 12 to 18 May 2011. It was there too that representatives of the Hanover International Design Forum presented the award to Jean-Guy Dietrich, the project manager supervising the development of the new packaging for Hager.
In terms of criteria such as functionality, design, cost efficiency and sustainability, the new Hager packaging, which takes in account all aspects of the supply chain, easily persuaded the members of the international expert jury. The competition field was large: a total of
203 entries submitted by 114 participants from 24 countries
… and we belonged to the 59 singled out for an award!
Packaging optimisation and its special features
The new Hager packaging is reclosable but remains tamper-evident and pilfer-proof. The clear design of the printwork points to a strong branding identity and to a sound environment-friendly approach. For during the
course of the optimisation project, the use of printing inks was reduced sixfold. Plus, thanks to the optimised packaging construction, we will be saving around 300,000 square metres of corrugated cardboard a year.
Last but not least, it was also found possible to use recycled paper instead of the packing materials previously based on fresh fibres. And that corresponds to cuts in the emission of approx. 130 tonnes of carbon dioxide a year worldwide.