New Hager Group Annual Report 2015 is now ready!

Hermann Hager has passed away

Hager Group intranet among the 10 best intranets in the world

Hager on show at the IAA for the first time

Happy Chinese Mid-Autumn Festival!

IF Packaging Award 2011 for New Hager Packaging

Hager: Test centre for EDL household meters

Happy Chinese New Year 2011

New Hager Group Annual Report 2015 is now ready!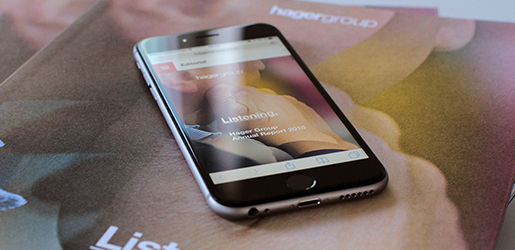 The precious art of listening.
Listening… Isn't that what we all do, day in and day out?
Today we receive more impressions than ever before, and yet often something essential is lost. Listening and understanding are two different things. Only those who can listen carefully can transform information into valuable knowledge. And only those who share this knowledge with partners and customers develop a true understanding of what lies ahead.
Hager Group Annual Report 2015 is therefore dedicated to the precious art of listening. Its chapters follow the themes of Hager Group Project 2020, in which we intend to give our direction for growth and momentum over the next five years. This corporate project is also the result of listening and sharing; it contains the ideas and experiences of hundreds of employees, partners and customers from around the world who together devised our Project 2020.
The Annual Report 2015 is available in printed form as well as in a digital version with many supplementary videos, audios that following the theme of 'Listening', animations, picture galleries, links to further information and many lively features to discover. As usual, our digital Annual Report will also be available via App for all Apple devices in the iTunes Store and for all Android devices in the Google Play Store.
The features of our digital Annual Report 2015:
Available in a fully responsive version making it possible to discover our Annual Report on any Desktop, Notebook, Tablet and this year for the first time also on any Smartphone.

Equipped with a user-friendly navigation bar.

Possible for readers can switch quickly and easily between English, German and French.

Archives for Annual Reports from the years 2011 to 2014. within one click

Several articles available to be 'listened to'; whilst listening you can either continue to discover our Annual Report or switch off the audio in the top service bar.

Easy access to Content Menu offering you various ways to access the different articles.

Developed in our fresh and colorful new Branding Design.

Discover the Annual Report 2015 for yourself and don't hesitate to show it to partners, customers and colleagues @
http://hagergroup.com/annualreport