Hager 50th anniversary
2005 is a special year for us at Hager: We are celebrating our 50th anniversary.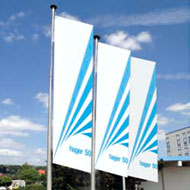 From a small family business, Hager Group has evolved into a global business that acts locally.
We would like to thank our customers and business partners for their trust and loyalty, and look forward to joining together with them in tackling future tasks and challenges.
Designing and manufacturing advanced electrical systems for fifty years now. A good reason to celebrate.